UK Events LTD - Welcome to our site
We do a lot of work in the Cardiff area. We find our clients are looking for good quality products and we are only too happy to help.
We have a large range of products including dancefloors, LED uplighters, starcloth backdrops and various entertainment packages.
We have a large stock of Oak Parquet, Black and White, Pure White, Starlit Pealight in Black or White and the amazing LED Illuminated dance floor.
If you require any assistance at all, please click on the Contact Us button where you can fill out the online enquiry form. We will contact you shortly after receiving your form.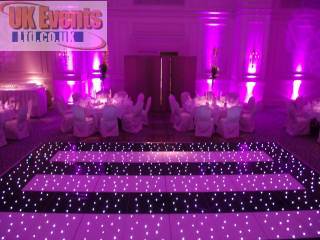 New to our stock we are proud to offer the World's first pink starlit dance floor, an animated cocktail bar and 5ft LED love letters.